Dairy Grazing Project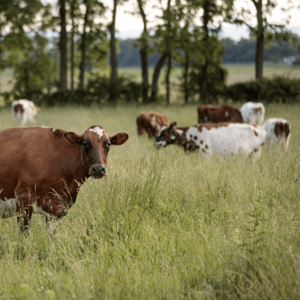 In southeastern Pennsylvania, we're working to establish the first pasture-based and regenerative organic dairy supply chain in the U.S. through our Dairy Grazing Project—a collaborative initiative that contributes to broader ongoing efforts to restore and preserve the Chesapeake Bay Watershed.
With moves toward more sustainable milk production methods, the project aims to improve water quality in the Chesapeake Bay by significantly reducing agricultural nitrogen and phosphorus runoff, as well as sediment erosion. 
The project also serves as a model for evolving the dairy industry regionally and nationally to support healthier soil and cleaner water, and responds to increasing demand and lucrative markets for grassfed organic milk.
Are you a dairy farmer? Join Dairy Grazing Project to begin, improve, or expand grazing on your farm.
Dairy Grazing Project partners include Center for Dairy Excellence, Ephrata National Bank, Mad Agriculture, Origin Milk, Rodale Institute, and TeamAg. The project is supported by a grant from the National Fish and Wildlife Foundation and the U.S. Environmental Protection Agency.