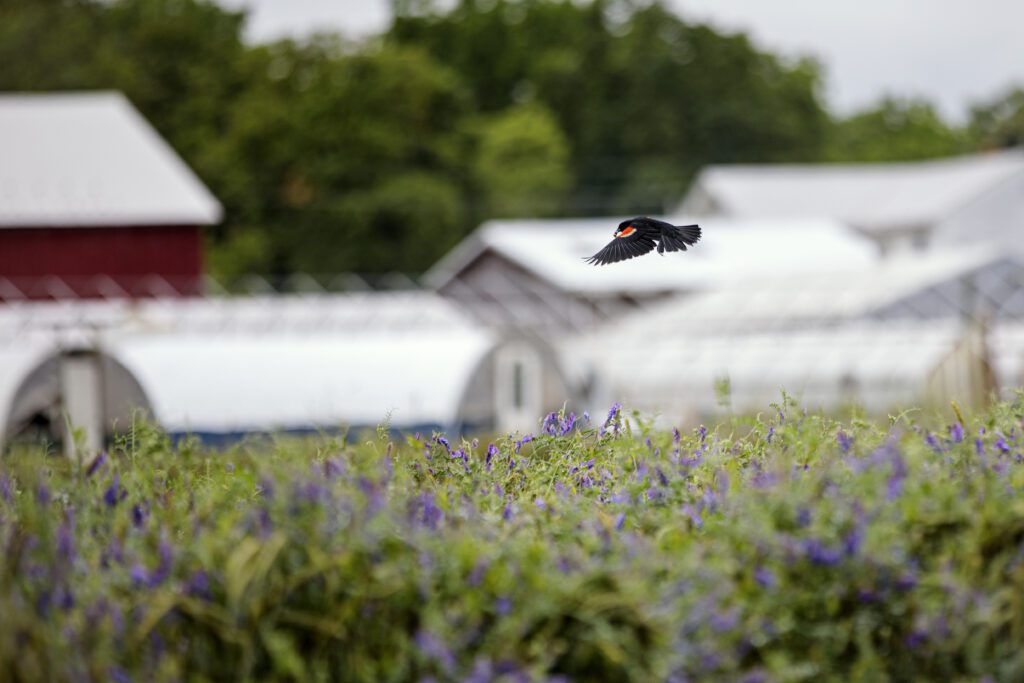 The Inflation Reduction Act is a huge win for sustainable agriculture—and there is more work to do.
On Tuesday, August 16, President Joe Biden signed into law the Inflation Reduction Act of 2022. While it may not have lived up to the original, more sweeping climate change mitigation aspirations of the now defunct Build Back Better Act, the Inflation Reduction Act is still an historic piece of legislation and ultimately fantastic news for sustainable farmers. It is the single largest federal investment in climate-smart agriculture to date.
The Inflation Reduction Act delivers $40 billion for advancing regenerative farming practices, such as planting cover crops, reducing tillage, pasturing livestock, and agroforestry. This includes $20 billion in supplemental funding for existing popular conservation programs including the Conservation Stewardship Program (CSP), the Environmental Quality Incentives Program (EQIP), the Regional Conservation Partnership Program (RCPP), and farmland easement programs.
Many farmers in Pennsylvania have been frustrated by the backlogs and waits involved in enrolling in these conservation programs—to date, just 20% of EQIP and 27% of CSP applications from farmers in Pennsylvania get funded. The Inflation Reduction Act will significantly expand these existing programs to to support more eligible farmers. 
Like any bill that gets signed into law, some of the details are not yet finalized.
The Inflation Reduction Act includes more than $5 billion for providing financial assistance to farmers who faced discrimination prior to 2021, and to the USDA to pay down loans held by farmers who face financial distress. Neither "discrimination" nor "distress" are defined in the law, and will have to be. These measures were intended to override lawsuits and legal hurdles that froze an earlier attempt by the American Rescue Plan to award $4 billion in relief to farmers of color. 
It will remain to be seen whether the Inflation Reduction Act will live up to the American Rescue Plan's attempt at guaranteed support for Black farmers and other farmers of color, who have time and again suffered from broken government promises to rectify ongoing effects of historical discrimination. We can all advocate for ensuring this funding reaches its intended recipients through appeals to our Congressional representatives.   
There is more work to do. The 2023 Farm Bill is our next big chance to make meaningful progress.
While the Inflation Reduction Act provides vital funding for combating climate impacts and natural resource degradation through sustainable farming practices, there is more work to do to ensure that these funds are equitably distributed among farmers—including farmers of color as well as new and beginning farmers. Fortunately, much of this work can be done through the upcoming 2023 Farm Bill. (Learn more about Farm Bill programs here.)
With the passage of the Inflation Reduction Act, farmers and farming organizations have real momentum to bolster the next Farm Bill's climate, conservation, and social and racial equity programs to complement the Inflation Reduction Act's impacts.
Pasa is a member of the National Sustainable Agriculture Coalition, and we are working in collaboration with sustainable farming organizations across the country to advocate for a Farm Bill that benefits sustainable farms of all scales. Over the next year, we'll be regularly updating you about and asking you to take action to support our efforts.
Take action.
In fact, there's something all farmers and sustainable agriculture advocates can do right now to tell Congress what you hope to see in the next federal Farm Bill.
The U.S. House Agriculture Committee is gathering feedback about how the current 2018 Farm Bill is—or isn't—working. Let them know how the 2023 Farm Bill can support a more equitable and sustainable future. (Be sure to check the "Title II, Conservation" box!)
If you're not familiar with the Farm Bill and its components, don't worry—we've put together a list of four key sustainable agriculture policy needs. You can simply share these messages when you submit your comments to the House Agriculture Committee, or you can use them as inspiration to craft your own message.
Remember: Adding your voice to the 2023 Farm Bill conversation is one of the most important ways you can advance healthy, sustainable, and equitable food systems.