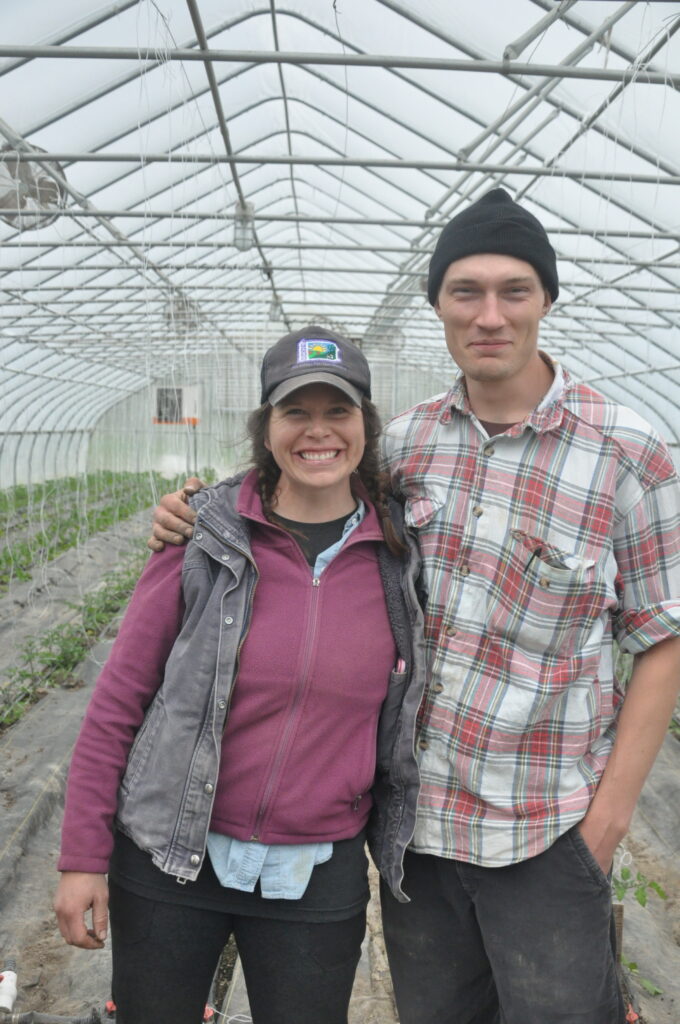 As they near the end of their 18-month apprenticeship experience, we asked Master Grower Liz Krug and Apprentice Logan McCabe from Fullers Overlook Farm in Waverly, Pennsylvania to reflect on their time participating in Diversified Vegetable Apprenticeship. Learn more about hosting or becoming an apprentice here. 
Master Grower: Liz Krug
Why did you choose to become a master grower and host an apprentice?
We chose to become master growers for two reasons:
1. We see the importance of training the next generation of farmers. [My partner and I both] learned how to farm from apprenticeships and found those experiences to be invaluable. The structure of the Diversified Vegetable Apprenticeship program worked well with us because it gave us the tools to make sure we are training the apprentices properly to start or manage their own farms.
2. As a business, having an apprentice for 18 months was extremely beneficial. The amount of time and energy spent on training an apprentice is a lot, so having them stay for 18 months was huge for us.
How has the program supported your personal goals and/or your farm?
Since we started Overlook seven years ago, we have taught and employed apprentices. Our own apprenticeship program has grown over the seasons and become more formalized, but Pasa's program really helped us make sure we were hitting certain marks with a guiding curriculum. The program supported us to make sure we were giving the apprentice the skills they need to be successful in their future, something that is extremely important to us but wasn't always clear we were achieving. The program's support also helped with supplemental trainings (tractor safety, business management, OSHA). Having the resources of an entire organization and the coordination/support from [Pasa's Diversified Vegetable Apprenticeship manager] helped us reach our goal of training the next generation of farmers.
What have you found challenging?
One challenge in the beginning was finding a way to support all of our apprentices' interests, knowledge, and skill set; the apprenticeship curriculum; and balance that with the needs of a production farm. The other challenging aspect is not always feeling like a "master grower," because oftentimes, it feels like the more you know, the less you know. In farming, there is so much to learn—from soil health to growing in a changing climate to business management. That is one of the things we love about farming, you never stop learning and tweaking and adapting. That doesn't always lend to feeling like a master grower, but that in and of itself is a lesson I suppose.
What have you especially enjoyed?
We have enjoyed watching [our apprentice] Logan grow over the past two seasons, both in his knowledge and confidence in growing. We have seen him develop critical skills needed to manage a farm such as time management, harvest and quality control, food safety management, tool use and care, as well as many other necessary skills. We have also seen him able to influence positive decision making on other apprentices that may only be achieved through time spent farming in a production system.
What has surprised you about the experience?
How much we learned! Especially when going over the "whys" of things. As managers we knew why we make certain decisions in the field, why we grow certain crops, and why we make certain decisions in our business plan, but we might not have always communicated that clearly. Through the apprenticeship job skills list, we were able to flush out those "whys" a bit easier, which helped us be more effective teachers and concisely teach why something works here at Overlook. It also allowed us to analyze our processes and systems during explanation and discussion. We realized through analysis that some things needed to be changed to allow for better management.
What advice would you give to someone considering becoming a master grower and hosting an apprentice?
Remember that you have 18 months to work through the job skills book. At the beginning it felt overwhelming to make sure we got through everything, but remember it doesn't all get done in one season. And having the monthly check-ins with [Pasa's Diversified Vegetable Apprenticeship program manager] helped a lot to make sure we were on the right track. On some of the items that we couldn't take time during the workday to explain or pay an apprentice to do, we started doing weekly lunch meetings. This helped us teach certain skills such as crop planning, business management, marketing plans, and those "whys" behind things without the pressure of the time clock, and it empowered [our apprentice] Logan to take the lead in his learning.
Apprentice: Logan McCabe
Why did you choose to become an apprentice?
I knew that I wanted to pursue agriculture for a living, and the Diversified Vegetable Apprenticeship promised to provide a comprehensive work/learning experience for those aspiring to manage their own farm. As opposed to seasonal work, where one might only be exposed to a few aspects of the farming operation, the work at Fullers Overlook along with the related technical instruction has provided a holistic experience of what small farm operation entails.
How is the program supporting your personal goals?
The program really tries to provide its apprentices with all the knowledge necessary to run their own farming operation. If something isn't covered at an apprentice's farm, [Pasa's Diversified Vegetable Apprenticeship program manager] goes out of his way to connect them with resources and contacts in their field of interest.
What have you found challenging?
I was aghast the first time we had to terminate a crop. I thought "but all that food is going to waste!" I think this is a common reaction for those first getting into farming, who haven't yet had to triage crops and to do a cost-benefit analysis of salvaging a crop versus cutting losses and putting another crop in that space.
What have you especially enjoyed?
Besides the actual farming, the networking opportunities have been great. Through this program I've met many other young farmers. This lifestyle isn't for everyone, so it's been great to have a support network of people with similar lived experiences, frustrations, and aspirations.
What has surprised you about the experience?
Just how much there is to learn. Coming into the apprenticeship I had rudimentary knowledge of how to grow plants, with some hobby gardening under my belt, but I had really no idea of all of the "behind the scenes" stuff necessary to operate a farm: financials, marketing, social media presence, etc. While I think most of us prefer the actual growing of food to the above aspects of farming, they are essential for the sustainability of a farm—not just its growing practices, but its long-term financial viability as a business.
How do you plan to utilize your experience after you complete the program?
I think the end goal of most farmers is to have their own farm, and I include myself in that group. In the meantime, though, I am currently looking for job opportunities on small farms as a crew leader or manager.
What advice would you give to someone considering becoming an apprentice?
If you are sure that you want to live the life of a small farmer, I'd say the Diversified Vegetable Apprenticeship program is a great first step. If you still have some hesitations though, there are other options before you take the plunge into an 18-month apprenticeship. My first experience with farming was in the WWOOFing (World Wide Opportunities on Organic Farms) program, which is a network of farms that host volunteers for workshare. Depending on the farm, you can volunteer anywhere from a day to a whole season, so it's a flexible and low-stakes way to dip your toe into farming. Another option is working on a farm for a season—many farms predominantly employ seasonal help. So you could work for a summer, and if you haven't been scared off yet, look into pursuing an extended apprenticeship like this program.
***
If you're interested in joining the Diversified Vegetable Apprenticeship program by applying to become an apprentice or host one, you can learn more here.