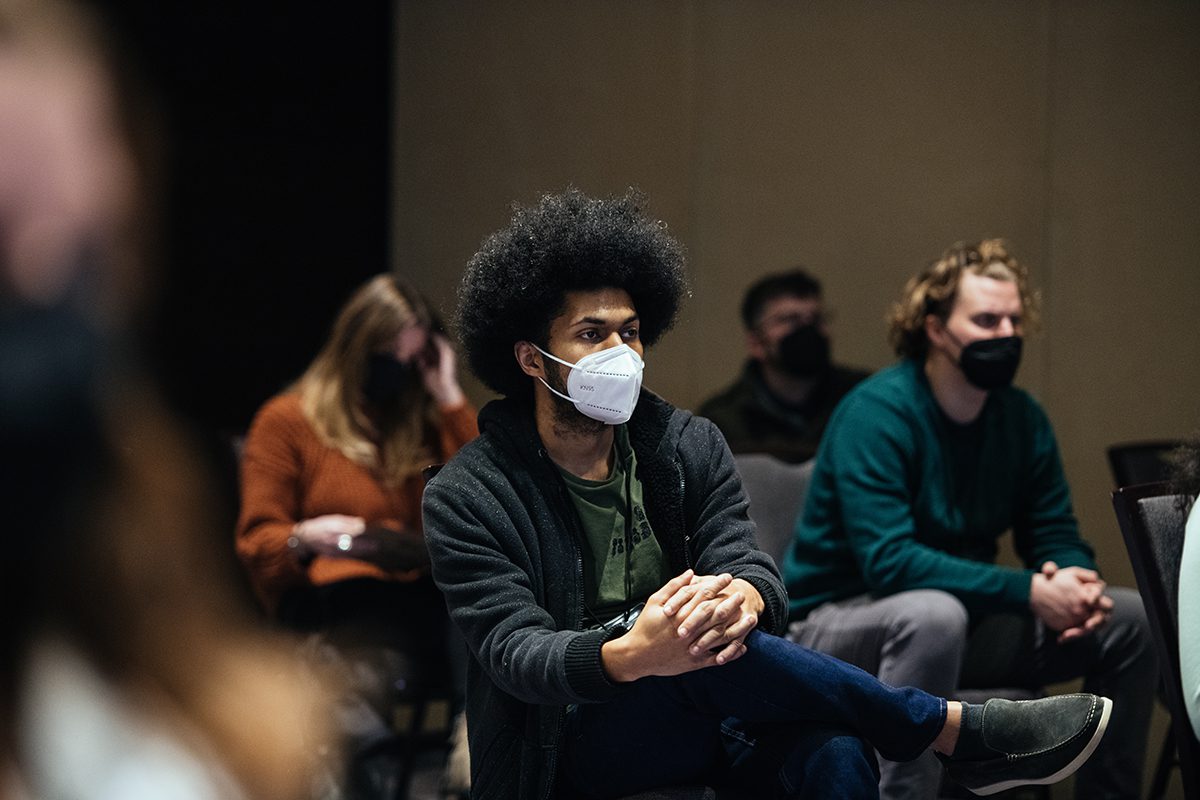 Our main proposal period is closed, but we may accept proposals on a case-by-case basis to complement existing programming.
If you're interested in submitting a session proposal, please review the proposals guidelines below then contact Associate Director of Events Kristin Hoy at kristin@pasafarming.org or 814-349-9856 x705 to find out if your session topic(s) might be a good fit for our 2023 Conference.
---
Our annual conference, entering its 32nd year, draws a diverse audience of rural and urban farmers, educators, advocates, entrepreneurs, community groups, artisans, researchers, policymakers, home cooks and gardeners, youth, and others for four days of learning on sustainable agriculture and food system topics.
Conference dates and format
Virtual conference: Our virtual conference will be held January 17–19, 2023. We will offer approximately 15 live and 15 on-demand virtual sessions.
In-person conference: We will host our in-person conference and trade show in Lancaster, Pennsylvania at the Lancaster County Convention Center on February 8–11, 2023. The in-person conference will have two plenaries, six to eight half-day sessions, 60 to 70 one-hour sessions, social and networking events.
---
Conference goals
Our overarching goals for the conference are to:
Provide training and education that promote the environmental, economic, and social wellbeing of farms, food systems, communities, and the environment
Serve as an outlet for sharing cutting-edge research and science-based solutions, as well as preserving and passing on traditional food and farming knowledge and heritage
Be a venue where people, businesses, and organizations from across the sustainable agriculture movement make meaningful connections
Embrace an inclusive definition of sustainability, which accepts a diversity of methods and philosophies of production
Highlight peer-to-peer learning and center farmers as teachers, and showcase sustainable ag success stories
Advance an equitable community-based food system
---
Timeline
Deadline to submit proposals: June 30, 2022. After this date, we may accept proposals on a case-by-case basis if the proposed topic(s) complement existing programming.
Final notification of proposal status: October 3, 2022
Note: We evaluate proposals throughout the open RFP window, and may be in touch with feedback prior to the final notification of proposal status.
---
Proposal selection process
We welcome and encourage you to contact us for feedback on your ideas prior to submission. Please contact Kristin Hoy at kristin@pasafarming.org or 814-349-9856 x705.
We work with a volunteer committee to assemble conference programming that meets the needs of our diverse audiences. We evaluate proposals using the following criteria:
Consistency with our organizational mission to cultivate environmentally sound, economically viable, community-focused farms and food systems
Alignment with our conference goals
Relevant experience of presenter(s)
Relevance of topic to our audience
If your session(s) is accepted, we'll work with you to refine the content to align with our conference goals and audience expectations as needed. We'll also help you prepare for presenting at the conference. You'll be required to attend one to two meetings with Pasa staff and you'll need to provide additional session and speaker details. If your session is scheduled for the virtual conference, you may need to work with Pasa staff to pre-record your presentation.
---
About our attendees
Farmers and aspiring farmers
Approximately 50% of conference attendees are current farmers—over half of whom have farmed for eight or more years. Another 15% of attendees plan to start farming in the next three years. Our farmers and food producers range in scale (from less than an acre to hundreds) and location (urban to rural).
Food system professionals and changemakers
Our conference also seeks to build bridges between farmers, food system professionals, and communities through a shared love of food and craft, as well as a shared commitment to environmental conservation and food justice. In fact, nearly all of our non-farmer attendees also produce agricultural products in some way. Our attendees include value-added producers, agriculture and food system professionals, educators and researchers, policy makers and advocates, and youth.
---
Program focus
Our conference provides programming relevant to farmers at all stages of their careers–including aspiring, beginning, and experienced farmers, as well as farmers transitioning into retirement.
We also seek to cover a broad range of topics relevant to the sustainable agriculture movement and the full breadth of a healthy and just food system.
We will organize our programming under the following categories:
Agroforestry (e.g. alley cropping, forest farming, silvopasture, riparian buffers)
Animal husbandry (e.g. dairy, meat, fiber)
Annual crop production (e.g. vegetables, herbs, flowers)
Business, finances, and entrepreneurship
Farmer and community health and well-being
Farm and food system policy and advocacy
Farm skills (e.g. management, maintenance, repair, safety)
Food culture and skills (e.g. value-added, seed saving)
Markets and marketing
Perennial crop production (e.g. fruits, berries nuts, medicinals)
Row crop production (e.g. grains, fiber, forage, legumes)
Soil and ecosystem health
In addition to the categories listed above, we seek to address several important themes, including certified organic production and practices; climate change adaptation and mitigation; and diversity, equity, inclusion, and justice in the food system.
---
Session formats and length
All individual sessions, regardless of format and length, can include up to four presenters. For most topics, we highly encourage including a farmer or food system practitioner as part of the speaker lineup.
Virtual live sessions: Sessions will be 75-minutes long and can be either a webinar or a meeting.
Virtual on-demand sessions: Sessions can range from 30 to 60 minutes. Pasa can provide recording and minor editing support if needed.
In-person half day sessions: We will offer a limited number of intensive sessions on the afternoon of Wednesday, February 8. These sessions will be four to five hours long and will have one 30-minute break at the midpoint.
In-person 60-minute sessions: Our in-person sessions on Thursday, Friday, and Saturday will be 60-minutes long. We strongly recommend you allot 20 of the 60 minutes to Q&A.
You are welcome to propose multiple related sessions to form a series, but they should be designed to accommodate participants who will only attend one or some of the sessions in the series, as well as participants who will attend all of the sessions in the series.
Note: Trade Show programming will be arranged separately from this proposal process. If you are interested in presenting a short (up to 20 minute) session on our Trade Show Stage about a product or project, please contact Kristin Hoy at kristin@pasafarming.org.
---
Compensation
As a nonprofit education organization, we try to stretch our budget as far as possible to maximize the impact of our program. We also understand that some speakers may need additional support to participate in our conference. When you fill out the proposal form, you will have the opportunity to share your compensation needs. Here are some guidelines regarding compensation requests:
Virtual conference speakers
We are happy to offer complimentary registration.
We will offer a discount to the in-person conference.
In-person conference speakers
We are happy to offer complimentary registration for the full conference, as well as lunch and free parking the day(s) you speak.
If you will travel more than 50 miles one way, we will consider requests to cover travel costs. We can also cover the cost of one night of lodging per day of speaking. Speakers will be provided instructions for booking their own lodging within our conference block at the Lancaster Marriott, and how to send reservation details to Pasa for cost coverage. Please note that we cannot provide this support for speakers who represent a company that is sponsoring or exhibiting at our conference.
Speaking fees or other support requests
Limited funding is available to cover speaker requests beyond our standard compensation noted above. We are a nonprofit organization and we ask presenters to consider this when making requests. We are willing to consider non-traditional requests. Waived speaker costs can be included as part of in-kind support. Please be specific in your requests, and we will do our best to meet them.
---
Submission instructions
If you're interested in submitting a session proposal, contact Associate Director of Events Kristin Hoy at kristin@pasafarming.org or 814-349-9856 x705 to find out if your session topic(s) might be a good fit for our 2023 Conference.