Training and support for new or growing dairy grazing operations.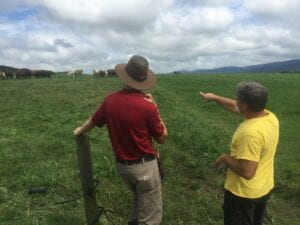 The Northeast Dairy Business Innovation Center has introduced a new initiative to support new or existing dairy farms that would like to increase grazing practices within their operation. As part of this initiative, Pasa is partnering with Cornell Cooperative Extension on a project to expand well-managed grazing lands in the region and support local dairy farmers in their grazing transition.
We've assembled a regional cohort of dairy farmers who are planning to start or expand their grazing practices. We invited both beginning and established farmers to participate in this program. Cohort members are not required to own the farm they are operating on but must be seriously planning to increase grazing practices within the farm's overall herd management.
All participants in this project are expected to take part in at least six transition to grazing cohort meetings over the two-year time period (June 2021–April 2023). Participants must also meet individually with the project lead at least six times over this two year period.
Cohort members receive support in their transition to grazing through:
peer-to-peer meetings and exchanges

trainings led by experienced dairy graziers

one-on-one technical assistance

eligibility for funding
Funding
All participants in this project will be eligible to receive a $5,000 grant at the end of the two-year time period. These funds must be directed toward supporting your farm's efforts to expand grazing.
Application process
We are no longer accepting applications, but if you would like to get connected with dairy graziers in the region, please reach out! Contact Aaron de Long by email aaron@pasafarming.org or by phone 814.349.9856 x709.