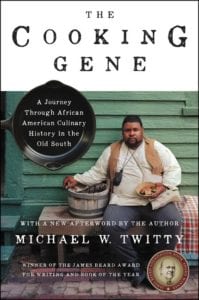 About
Michael Twitty is a food writer, independent scholar, culinary historian, and historical interpreter personally charged with preparing, preserving, and promoting African American foodways and its parent traditions in Africa and her Diaspora, and its legacy in the food culture of the American South. Michael is also a Judaic studies teacher from the Washington D.C. Metropolitan area.
Michael authors a food blog, Afroculinaria, and his book The Cooking Gene: A Journey Through African American Culinary History in the Old South was the 2018 winner of the James Beard Award for best food writing and book of the year.
Keynote presentation (Friday, February 7)
Culinary Justice: Defining a Theory of Gastronomic Sovereignty
Food justice, social justice, environmental justice, food sovereignty—an entire language has developed around how we want to see and live in a better world where fairness and right action prevail. In an extension of these concepts, Michael has begun to promote his notion of culinary justice—the idea that historically oppressed peoples have a right to authority, sovereignty, prosperity, and acknowledgement in their contribution to national and global foodways. Join Michael for a lively discussion to explore the way the preparation of food unites and divides narratives, and how we can use it for good.