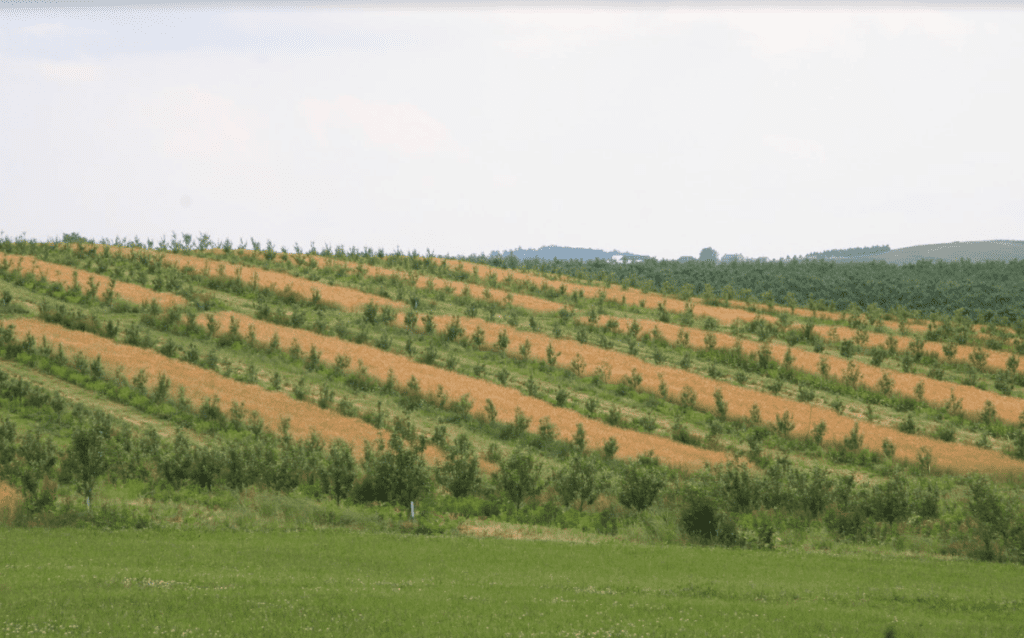 Are you a farmer interested in integrating agroforestry on your farm?
Pasa has teamed up with agroforestry consultant Interlace Commons to offer technical services to farmers in Pennsylvania interested in the agroforestry practice of alley cropping—planting trees to create alleyways, between which agricultural or horticultural crops are cultivated.
The goal of alley cropping is to build a more environmentally and financially diverse farm operation. There are many possible approaches to alley cropping—for example, a farm might grow grains in between wide rows of apple trees (see image above).
We're seeking three farms to serve as demonstration sites for alley cropping in Pennsylvania. This will be a two-year collaborative project between the selected farms, Interlace Commons, and Pasa. We will work together to identify goals, challenges, and opportunities for the alley cropping system, taking into account the larger biophysical, social, and economic circumstances of the farm.
During year one, selected farms will receive support for designing an alley-cropping plan tailored to their unique goals and farm operation. During year two, Pasa will work with farmers to identify and help secure funding to physically implement the alley cropping design on their farms.
---
How to apply
Apply early! Applications will be reviewed on a rolling basis. The final deadline to apply is December 31, 2020.
If you have any questions, contact Aaron de Long at aaron@pasafarming.org.
---
Project partners
Interlace Commons is a nonprofit organization promoting agroforestry adoption through educational and research initiatives. Its research initiatives are farm-driven and supported by academic and community partners.
Pasa Sustainable Agriculture is a Pennsylvania-based nonprofit organization that cultivates environmentally sound, economically viable, and community-focused farms and food systems.
This project is generously supported by a Conservation Innovation Grant awarded by the Pennsylvania Natural Resources Conservation Service. The grant will help inform new state standards for alley cropping in Pennsylvania.