Learn how to harness the energy of your pastures to improve the health of your herd, land, and business.
Join us at Painterland Farms for this special two-day intensive with world-renowned grazing consultant Ian Mitchell-Innes.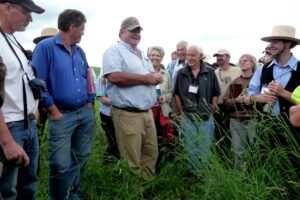 About the trainer: Ian Mitchell-Innes has been practicing holistic pasture management for over 20 years on his ranch in South Africa. He also works as a consultant with farmers and ranchers across the globe, helping graziers avoid costly mistakes by sharing lessons he has learned over time.
According to Ian, the easiest way to increase profit from a piece of land is to manage it the way nature would. He'll share strategies for honing in on surface and subsurface soil health, maintaining diverse forage crops, and optimizing the timing and density of grazing.
The holistic, regenerative approach Ian teaches also keeps in mind the practical and financial constraints of running a farm business. You'll learn how to plan for the grazing system you want, while working with what you have.
Topics covered include:
Reducing inputs while maximizing animal health and production
Managing high and ultra-high stock density grazing
Optimizing pasture recovery period for better herd nutrition
Calculating grazing time for paddocks of varying sizes
Growing more grass to capture more energy
Improving profits through efficiency and planning
About the farm: Painterland Farms is a fourth-generation organic pastured dairy operation nestled in the beautiful hills of Tioga County, Pennsylvania. Sisters Stephanie and Hayley Painter are co-owners of a value added venture using their farm's milk in their organic skyr yogurt, which is sold nationally. Painterland also recently joined Dairy Grazing Apprenticeship as a mentor farm.
Notes
This event is supported by grants from National Fish & Wildlife Foundation (NFWF), Northeast Dairy Business Innovation Center (NEDBIC), and National Sustainable Agriculture Coalition (NSAC).
Special thanks to Dairy Grazing Apprenticeship, Organic Valley, PA Grazing Lands Coalition (PAGLC), and Capital RC&D for sponsoring this event.
Register