Details
Posted: Mon, November 15, 2021
$11/hour paid bi-weekly (approx. 30 hours/week); Deduct $60/week if electing on-site housing at our renovated farmhouse.
Collegeville, PA
job
Email: melissa.smith@willowcreekfarmpreserve.org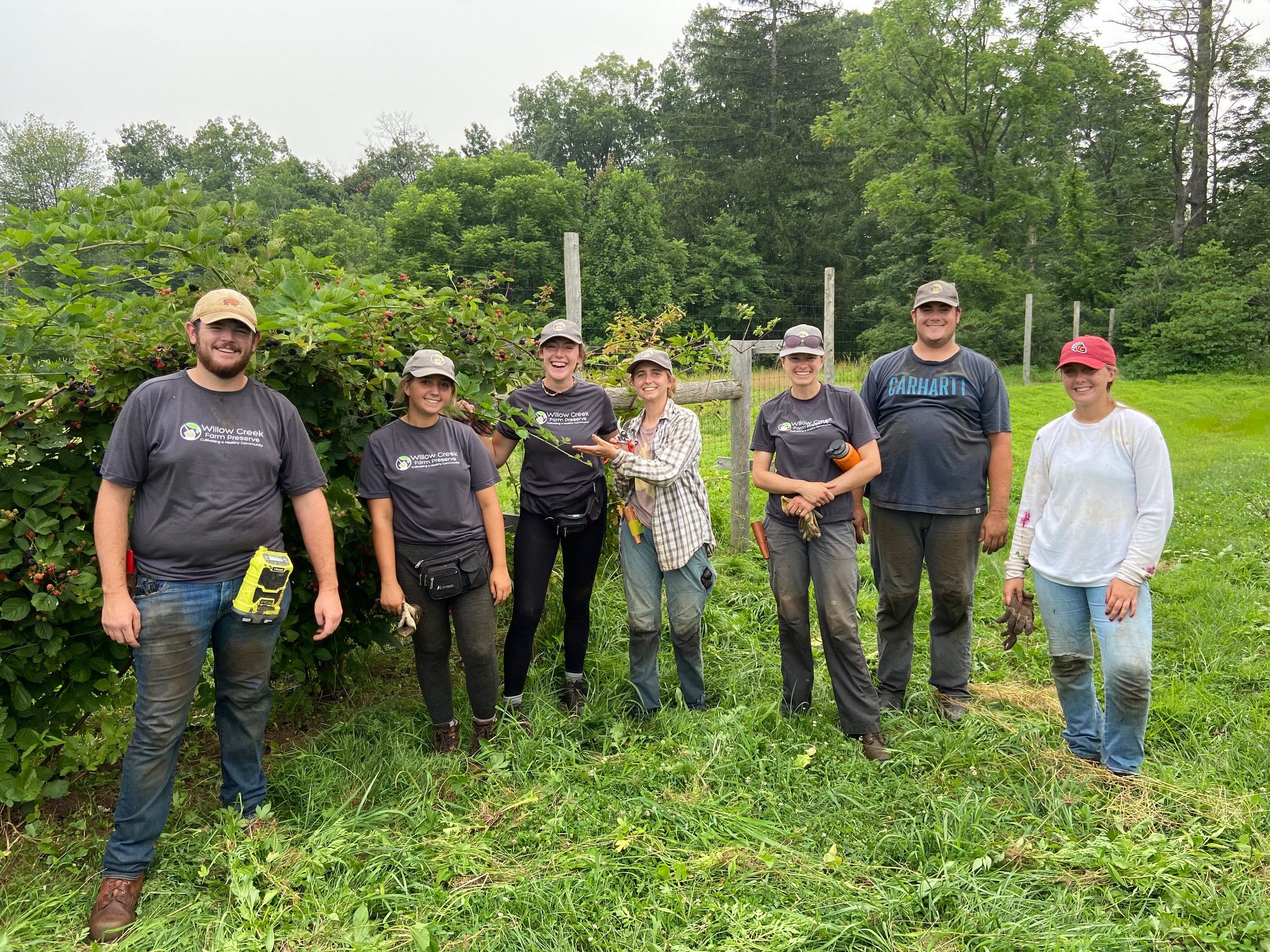 WILLOW CREEK FARM PRESERVE – SEASONAL INTERNSHIPS 2022
A Montgomery County Education, Fiber & Fruit Farm
[SPRING]: March – Mid-May | [SUMMER]: Mid-May – August | [FALL]: Late August – November 2022
(*Qualified candidates may be considered for 2 consecutive segments of the season)
The Seasonal Internship Program at Willow Creek Farm Preserve (WCFP) is a hands-on work-learning program focusing on small-scale regenerative organic farming and farm-based education, with an emphasis on the dynamic connections between food, fiber and the environment.
RELATIONSHIPS: Reports to Education & Community Manager and Assistant Farm Operations Manager.
KEY RESPONSIBILITIES AND DUTIES:
• Interns work alongside WCFP leaders on our 135-acre farm in the fields, raised bed gardens, pastures, shoppe and studio. Daily activities range from weeding, mulching, raised garden bed care and vegetable harvesting, mowing, plant and property care, wool processing, pruning, trellising, animal care, pasture setup and breakdown, and opportunities to lead co-workers, garden volunteers, farm visitors and u-pick customers.
• The Internship Program highlights the following topics: Introduction to Basics of Regenerative Organic Farming, Considerations of Farm-Based Education, Introduction to Fruit Production, Considerations for Raising Sheep, Wool Processing Fundamentals and Raised Bed Vegetable Production in our Seed to Share Garden™.
• The Interns will be trained and support/lead WCFP Educational programming for diverse audiences on a range of farm-based education topics as available.
• Interns participate in at least one off-farm tour or off-farm speaker experience. These occur within the region during each of the Spring, Summer & Fall Internship timeframes with organizations such as the Collaborative Regional Alliance for Farmer Training (CRAFT) overseen by Pennsylvania Association for Sustainable Agriculture (PASA).
QUALIFICATIONS:
• Genuine interest in Regenerative organic farming and strong physical and mental work ethic.
• Responsible and internally motivated to learn and improve one's skillset and knowledgebase.
• Demonstrated ability to collaborate and work well with others, including co-workers and the public.
• Prior agricultural experience is not required, although any work or study in the field of food or agriculture is a desirable attribute of Internship applicants.
• Experience with education recommended and experience in fiber arts a plus (interest in both a must).
• Must be 18+ years of age, pass a Background Check and have a Valid Driver's License (1+ year driving experience preferred).
PHYSICAL REQUIREMENTS:
• Lift/move up to 50lbs, unassisted.
• Carry, bend, kneel and stand for long periods and work outdoors in all weather conditions.
POSITION TYPE/COMPENSATION:
• Tuesday – Saturday, 8am – 3pm; (approximately 30 hours/week); rotating Sunday duties.
• Candidates may complete this internship for college credit.
• $11/hour paid bi-weekly; Deduct $60/week if electing on-site housing at our renovated farmhouse.
• Veggies from staff garden as available.
TO APPLY: Submit resume to Melissa.smith@willowcreekfarmpreserve.org and complete our online application to be considered for a 2022 Seasonal Farm Internships. *Applications are reviewed once received and qualified candidates will be interviewed/offered positions on a first-come, first-serve basis. Apply Early!
ABOUT US: Willow Creek Farm Preserve (WCFP) is a 135-acre regenerative transitional organic family farm located in central Montgomery County, Pennsylvania. We grow 10-acres of u-pick perennial fruit and offer a community volunteer-based, one-acre raised bed vegetable Seed to Share Garden™ where 100% of the vegetables grown are donated to local food pantries. In addition, we specialize in raising Shetland Sheep for wool, offer farm classes, field trips & tours, and operate our Learning Barn Farm Shoppe & Studio where we feature our fiber & fiber arts. We also grow hay, straw and have 20+ acres of pasture for our rotational grazing system for our sheep. For more information visit: www.willowcreekfarmpreserve.org