Details
Posted: Mon, October 11, 2021
275
Port Matilda, PA
sale
Phone Number: 2105694453
Email: Marissa Schaeffer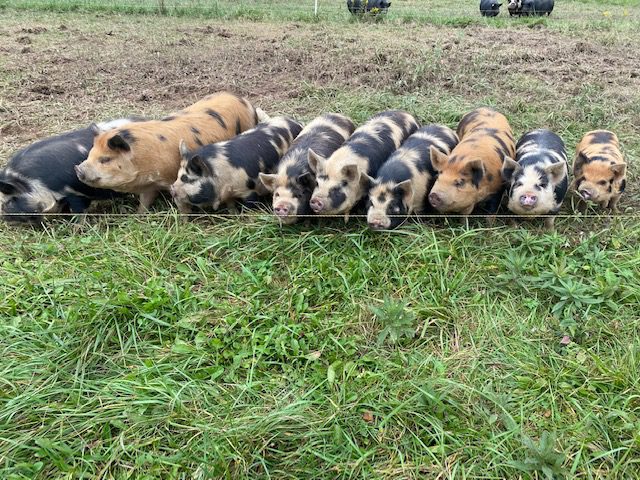 I have lovely, pastured, hand-raised Kune Kune pigs for sale. Their mothers are full/registered Kune's, father is full but unregistered Kune. These pigs will make an awesome addition to ANY homestead farm. These pigs are great at farrowing unassisted or with very little support and make excellent mothers. They are VERY easy on the land and also produce delicious meat for your farm or homestead. I was originally keeping all these ladies to grow my breeding herd as their confirmations are all excellent.
These pigs are NOT mini pigs. If you don't know if you can have pigs or are just looking, please don't waste my time. Fully interested parties only please! I may also be interested in selling my breeding stock, I have 3 sows and 3 boars, all incredible animals. Interested parties inquire about those pigs as well. Just downsizing my farm a bit! I take cash or credit ONLY!
I have the following animals available:
Black and White Gilt-Double Wattled-Born 11/17/2021 (last of my litter of 11)-$400
This list born 4/12/2021-$350 each Breeders
Agouti Gilts Double Wattle (Black and White)-2 each
Agouti Gilt (Black and White) No Wattles-1 each
Agouti Gilt (Black and White) One Wattle-1 each
This list born 4/16/2021-$350 each Breeders
Ginger/Black Gilt Double Wattles-1 each
Ginger/Black Gilt No Wattles-1 each
Black and White Gilt No Wattles-1 each
I also have a female breeder that is a cross-breed of Kune and American Guinea Hog born November 19, 2020-$400
I have one meat pig/grow out from my April litter-Castrated Male-$250. He will be great to finish till about a year or you can make him a "company pig" for your breeding females.