Details
Posted: Fri, November 22, 2019
Cochranville, PA
job
Phone Number: 610-406-1780
Email: Lisa@northstarorchard.com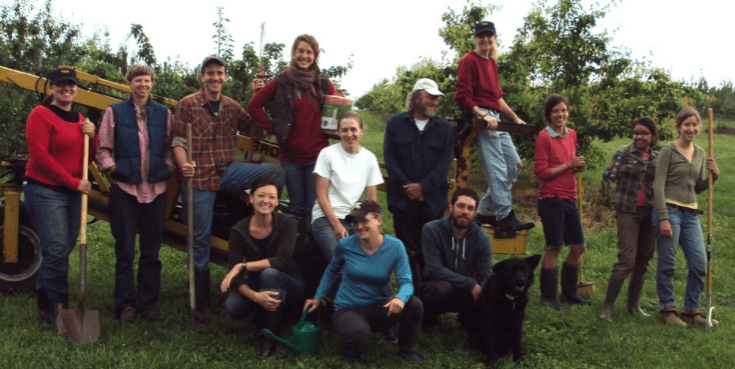 Positions Available at North Star Orchard in 2020 and beyond:
FT Orchard Apprentice
FT Vegetable Apprentice
PT/FT Retail Marketing Assistant
PT/FT Well-Rounded Farm Helper
Previous farming or marketing experience is not necessary, but demonstrating experience, strong interest, or education along those lines is preferred.
Positions start in spring and continue until Thanksgiving, with opportunity for continuing long term employment for the right person/people (although winter work may be very limited or nonexistent)
About us: North Star Orchard is a 20-acre farm where our focus is on unique and heritage varieties of fruit (over 300 varieties of apples alone!) and a wide selection of vegetables. We operate a large fruit CSA, sell at area farmers' markets, and have an on-site farm store, so there is a lot going on for you to enjoy being involved in. We grow non-certified organically-grown vegetables on 5 acres and IPM tree fruit on about 12 acres. We also have an extensive, multi-year apple breeding program and have been developing new varieties of certain vegetables as well. For more information, visit www.northstarorchard.com
We have a great team of folks who are passionate about farming and sustainability issues. If you're someone like that, we'd like to learn more about you.
To see full details, including requirements and benefits, and to apply, visit https://northstarorchard.com/employment. A resume and letter of introduction is required as well.
MORE INFO
Positions at North Star are not internships, but employment for a reasonable wage. There are certainly opportunities to learn while working, especially for motivated individuals who are willing to read industry-specific material, ask questions of the farm owners, and attend area grower-specific meetings. Many of our staff have gone on to further education in sustainable topics/agriculture or to their own farming projects. All positions start in spring and continue until sometime in November, and may have the potential for long-term and year-'round employment for the right people.
Regular on-farm work hours are M-F from 7AM to 3:30PM. Work schedules will vary somewhat depending on position and whether a staff member is working in marketing activities. Most staff may be required to work from time to time on any project on the farm, be it gardening, orcharding, grounds maintenance, fruit thinning, fruit/vegetable breeding projects, CSA & market prep, or helping with special building projects. All full-time staff must be willing and able to help with direct marketing activities in summer and fall (farmers' market, CSA, farm store)
Applicant Requirements:
1. Be highly motivated, efficient, and detail-oriented with strong work ethics and the ability to work well with both staff and customers.
2. Be physically fit: able to repeatedly lift 40-50 pounds, climb a short ladder on a frequent basis on orchard work days, squat and bend repeatedly on garden work days, and work in all weather conditions. (All employees, regardless of specific role, may have to help in various tasks all around the farm, depending on need)
3. Have a license with a good driving record.
4. Supply own work boots, clothing, gloves, and sunscreen.
5. Not smoke or chew tobacco on the farm premises.
Pay and Benefits:
See pay scale for various positions in description on website. Pay raises are based on performance, taking on more responsibility, and longevity.
All staff working more than 20 hours a week receive a 50% price discount on first-quality produce and free second-quality produce. Staff working under 20 hours a week receive a 20% discount on first-quality produce.
On-farm shared housing in a large house at reasonable rent is a possibility if there is space available. Rent includes heat, A/C, trash, water, and wifi.
Enjoy free classes from those offered to the public on the farm during the growing season (kitchen arts, creative arts, etc.)
401(k) plan with matching employer contributions is available for staff who work a minimum of 1000 hours and are employed for at least a year.
To apply, visit http://northstarorchard.com/Employment to review details and submit an application and resume.