Details
Posted: Wed, May 24, 2023
$14.50/hr
Allegany
job
Phone Number: 7163077750
Email: office@canticlefarm.org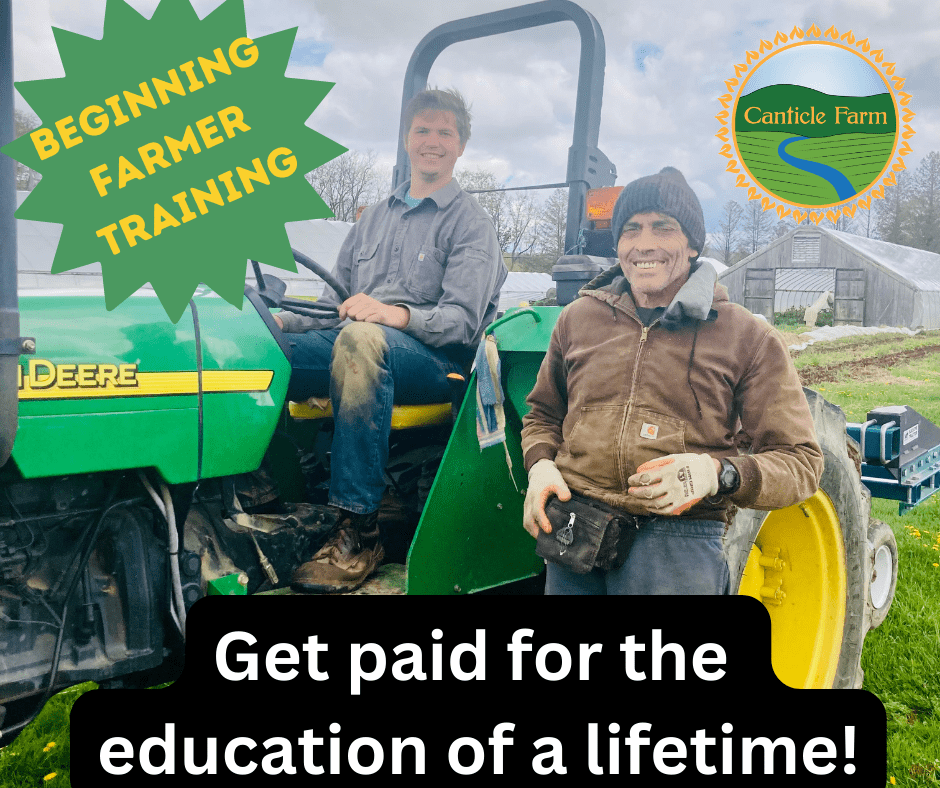 Canticle Farm
Assistant Farm Manager
Job Description
Canticle Farm, a diverse vegetable-producing farm located in Allegany, NY is seeking a hardworking, self-motivated individual to assist the farm manager in day-to-day farm operations. This individual should possess demonstrable supervisory and decision-making abilities. This position is developmental and ideal for the person who enjoys working outdoors.
The position is full time during the growing seasons, and part time during the winter.
Responsibilities:
Implementation and understanding of the farm's crop-plan and related records.
Greenhouse activities include seeding and transplant care.
Ability to do all farm-related tasks including, but not limited to field preparation, cultivation, irrigation, foliar feeding, mulching, and harvesting.
Distribution and marketing of produce through on-farm sales and farmers' markets.
Attendance at Saturday market, as needed.
Relating well with farm staff, shareholders, volunteers, and farm visitors
General maintenance of farm property and equipment.
Supervision and side-by-side work with farm staff and volunteers as assigned by the farm manager.
Act on behalf of the farm manager in his/her absence.
As a level of leadership, the assistant farm manager needs to be familiar with and uphold employee handbook policies with themself and other staff.
Physical Requirements:
Individuals must be able to work in all weather conditions.
Ability to lift up to 70 lbs.
Ability to complete tasks requiring repetitive up and down movement associated with working on hands and knees.
Additional Requirements:
Valid driver's license and vehicle
Rate of Pay:
Dependent upon experience, starting at NYS minimum wage requirement.
The position provides the opportunity to learn the skills and processes necessary to manage a vegetable producing farm. While experience is helpful, the ability to work hard and commit to learning are more important. A self-motivated individual with the ability to do physical and repetitive tasks, who is committed to environmental sustainability, and community focused, will thrive in this position.